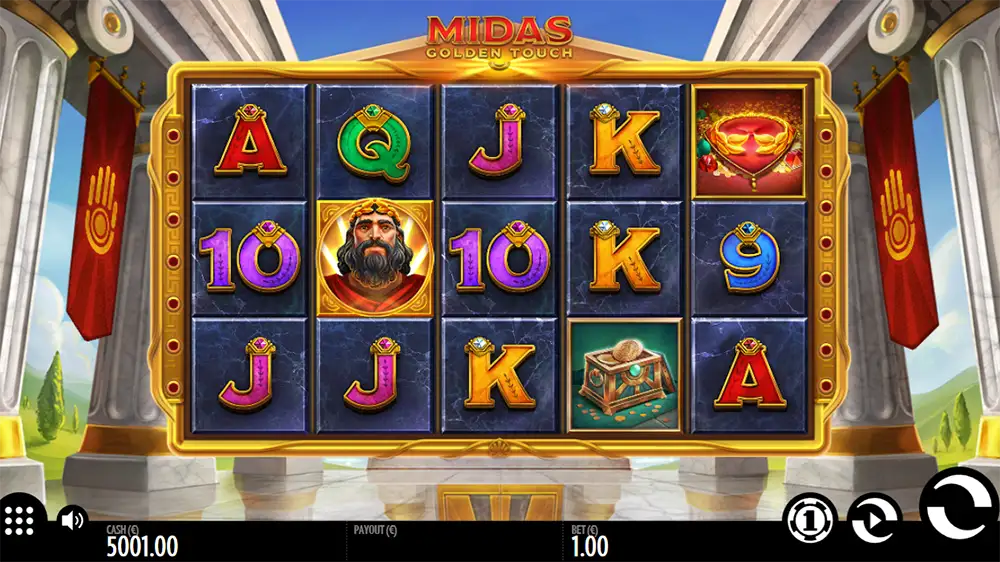 Start Demo
Licenced real-money casinos with Midas Golden Touch
Midas Golden Touch slot Review
Midas Golden Touch slot machine was developed by Thunderkick, which is a young Swedish provider aiming to increase its audience with the help of cutting-edge online slots. This company can hardly be called a gambling industry giant but it belongs to the category of studios that came through considerable difficulties but deserved their images and reputacy.
The target of today's review, which is Midas Golden Touch online, is one more good proof that the company starting as a group of enthusiastic young developers has good prospects in the future. Here we are going to find out whether this game boosts this process. Also, let's explore why many awarded online casinos provide their customers the possibility to play this slot. Here we go!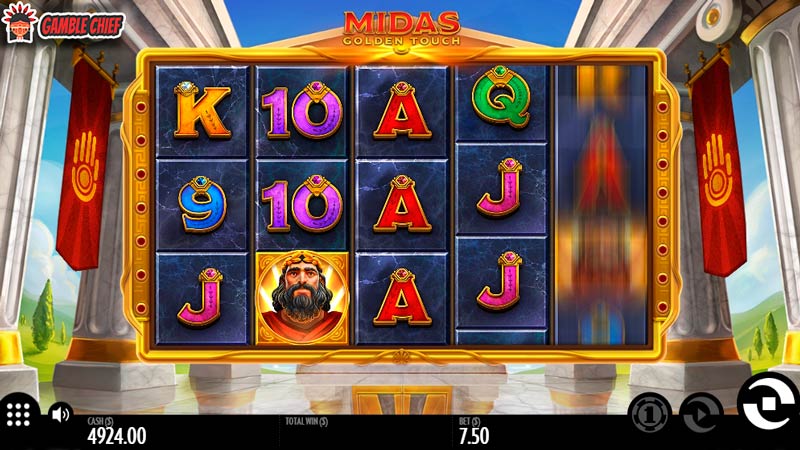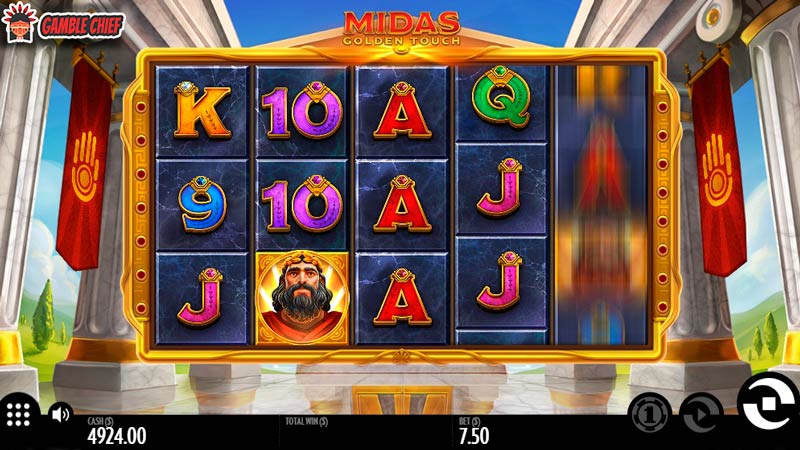 Slot Details
Midas Golden Touch is introduced in quite a usual formation – 5×3 representing several symbols. Every single symbol features its own characteristics, which will be described a bit later. Bet on 15 fixed paylines. The minimal prize might be reached when users match at least 3 symbols in one row.
Considering playing any online slots offered by slot sites, be aware of the minimal and the maximal sum of a possible bet. Your variety of choices ranges from 0.10 to 100 coins. Pay effort to make your balance. The currency accepted here is Euro.
A good way to get familiar with the game's rules, peculiarities is to try its free version. This way you will figure out whether it is engaging but the huge benefit coming here is – no risk of real money. Go and explore the product by yourself with the Midas Golden Touch demo mode.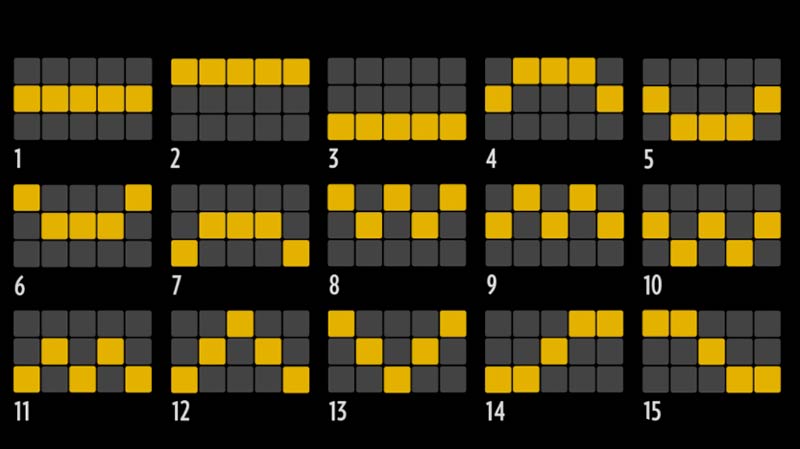 Midas Golden Touch Payouts
Experienced gamblers prefer looking for online casino games representing a high RTP rate. The reason is obvious – it indicates the probabilities of making a bank. The rate denotes the better chance to succeed. Corresponding to that, circumstances engaging to play Midas Golden Touch are pretty beneficial for gambling platforms' clients. Here they get an RTP of 96.1%, which is higher than in the majority of slots. It will directly impact your chances to win. One more thing to consider here is that the RTP rate defines the house edge – 3.9%.
The second thing influencing the prospects is called variance or volatility. Both terms are the level of rewarding sums' diversity. The minimal and maximal ones are indicated. Midas Golden Touch represents higher than the average variance. To be more specific, that means that your stakes may be increased by 5x or 75x. The highest reward is multiplying the bet by 10,000 times, which is an enormous advantage. If you are truly lucky, your payout will be impressive! Go and try whether it works for you!
Audio and Design
In order to understand why the theme of this development refers to the style of ancient art, we need to pay attention to its name. Midas is a character of Greek myths. He was believed to be a ruler who desired to turn everything gold by his touch. As a result, this gift became a curse for him when his daughter became gold. But let's don't take into account the negative side of the coin – you wish you could make everything golden and the game may help you to achieve that to some extent!
Midas Golden Touch graphics will let you feel like being the character obtaining unique skills because this aspect is one of the crucial for the developer's staff. The team says they pay a lot of attention to the look of every single development. In this short abstract, you will find out if they cope with it well.
As for us, the loading page is performed in a minimalistic style combined with the ancient Classic. That looks pretty attractive because it creates the contrast provided by minimalistic presentation of pompous settings itself.
Gaming page introduces the table of reels and rows with the outstanding symbols not showing up in the general atmosphere. In the background, there is a building in Classic style that is good enough but doesn't detract your attention from what is going on with bets. A color palette perfectly suits the settings. The colors are hot, which is pretty helpful in terms of boosting the rich atmosphere. The gamester is surrounded by gold paints, making one motivated and encouraged to keep playing.
One more good thing about the graphics refers to the symbols' looks. They are not extremely unique, as we consider, but the design is appealing. That might be enough for some players. Gamblers will be introduced to some characters, items, etc. of Greek mythology that are depicted on the pieces. Some of them are animated, which makes the game look more vivid.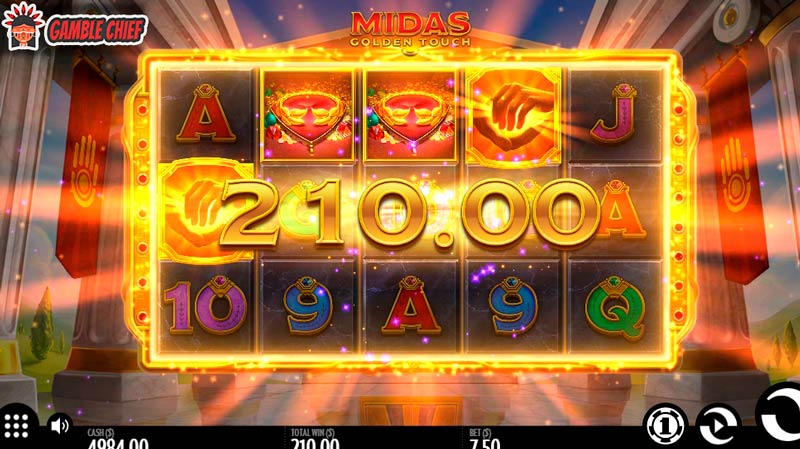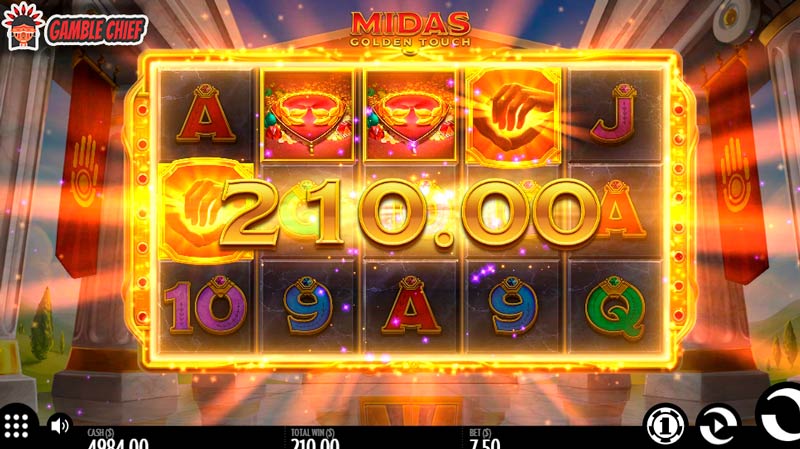 It would be nice to consider in this chapter not only the graphics of the slot itself, but the interface and some features of it referring to the game's look. The buttons are located on the button of the screen. That is a good choice of developer. Buttons, positioned like that, will not disturb the gambler from playing. You will notice that the buttons' design is clear and understandable.
Sound effects are also important in terms of user experience. They are helpful in boosting the general atmosphere of the playing and in engaging clients to play. Some developments are truly outstanding. Their developers look for different means to achieve their aim and it's essential to make the right decision. How does it work for the reviewed slot machine?
To be frank, this type of background music is not what appeals to us. Maybe your tastes are a bit different. In this case, you need to check the music of the project on your own and then make a decision whether it attracts your attention.
If you like a kind of hypnotizing sound, we guess that this slot is what you will take to! We'd rather say that it doesn't encourage or motivate you, but creates the feeling of being hypnotized. It seems to be quite relaxing stuff and gamblers aiming to have fun or rest with the slot will appreciate that.
If you hit the winning combination, you will hear a pleasant clinking sound. That isn't a kind of gorgeous noise, as for us, but we suppose it sounds good enough.
Having considered the game's audio effects and design, let's move forward. Look for more to get familiar with more important aspects of any Midas Golden Touch casino.
Midas Golden Touch Winning Symbols
The number of winning symbols here is 10. They are represented in the forms of numbers, letters, characters, and items. You need to examine their values in order to be able to predict what the potential reward might be. This must be considered as the payout is directly impacted by the combinations you hit on the reels. If you find it difficult to explore everything on your own experience, here we have a simple table representing the values of each particular symbol. Study it well and be ready to get the desired rewards. Just good luck!
| | | | | | | | | | | |
| --- | --- | --- | --- | --- | --- | --- | --- | --- | --- | --- |
| | 9 | 10 | J | Q | K | A | Chest | Goblet | Goblet wreath | King |
| 3 matched | 1x | 1x | 1x | 1x | 1x | 1x | 3x | 4x | 5x | 10x |
| 4 matched | 2x | 2x | 2x | 2.5x | 2.5x | 2.5x | 5x | 6x | 7x | 20x |
| 5 matched | 5x | 5.5x | 6x | 6.5x | 7x | 7.5x | 15x | 20x | 25x | 75x |
In-game bonus features
Thunderkick's development offers some services that are worth gamblers' attention. So if you are fond of bonus games, Midas Golden Touch might be considered as the potential options.
The slot machine doesn't introduce an immense amount of perks as the leading projects of the gambling industry do. But the number of casino bonuses shouldn't be the thing that denotes your attitude toward the product. Actually, you should look deeper into their major benefits. So what do we have with Midas perks? Let's find it out.
The project is a very simple and usual one so you shouldn't be looking for some extraordinary features. Bear in mind that here you're introduced to the 3 types of perks. We are going to provide you with a short description of every benefit so that you could make your own decision about it. Look at:
Sticky Respin feature
Free spins feature
Wild Multiplier
Our experts consider the Sticky Respin feature to be a good option for a gambler because it provides time and attempts to reach the desired goal. In a nutshell, you can spin the reels while your lucky combinations produced by the preceding attempts are locked.
Midas Golden Touch free spins come as they usually do in other developments to play on a platform. The only thing you need is a fortune that will help you to hit the combination of certain symbols that are called scatter. The perk is triggered when you are given several free spins. Here gamesters are focused on the golden gate bonus symbols. If 3 are landed, the client receives 10 free spins, if 4 – 15, if 5 – 20.
If you hit a wild symbol, the Wild Multiplier feature is triggered. What's curious, landing 3 or more symbols is not even necessary. Even one wild symbol is enough to multiply your bet by 2x. Check up the following range:
2 matched – 4x
3 matched – 8x
4 matched – 16x
5 matched – 32x
Summary
We consider Midas Golden Touch to be a good choice to have some fun and rest with gambling sites. If that is your choice, be sure – the product will appeal to you. Unfortunately, it's hard to claim this playing to be the best thing you could ever try because it's hackneyed to some extent. But we admit the quality of this product. Try Midas Golden Touch free now to experience it on your own.
Best Midas Golden Touch Casinos
FAQ
Is it possible to play Midas Golden Touch for free?
Yes, every customer can sample Midas Golden Touch free play since it offers a demo mode.
Does Midas Golden Touch have a jackpot feature?
Unfortunately, a progressive jackpot feature isn't included.
How to play the Midas Golden Touch for real money?
You can play this slot for real cash with many online casinos but it's better to look through our list of recommended platforms. Our experts have included only reliable and licensed suppliers. We suggest playing on PlayFortuna, Jozz, and Booi. 
Are there any Midas Golden Touch free spins?
Sure, read above to learn how to activate them.
What is the Midas Golden Touch max win?
Corresponding to the volatility, the max win is 10,100 of the gamester's bet.
Is Midas Golden Touch slot mobile-friendly?
Like many modern slot machines, Midas Golden Touch developers provided the possibility to play its mobile version.
Pros
Attractive multiplying feature;
The set of perks;
High RTP;
High variance;
User-friendly interface;
Cons
The perks might be rare;
Typical characteristics.